So, the v1.6.3 CB has ended, and we're glad for the massive feedback we have received on it

We'll keep on taking in reports and updating the bug log for a while longer, however most bugs appear to have been found and fixed by now, with the exception of a rather complex glitch causing battles to keep going or have no result. This will hopefully be fixed by the time we release the official update.
Moving on:
While the CB was up, we discovered an app which lets you play RPG Maker XP games on Android phones, including Didnapper (Yay!). The app is called Neko RPGXP Player and can be found on Google Play. It's free, but it's still in development, so it still has quite a few glitches.
For the occasion I have prepared a version of Didnapper that should be compatible with the RPGXP app:
www.dropbox.com/s/wxi1l9eb1kaq…
It's pretty much the v1.6.3 CB with some compatibility fixes and an added touch feature. Note that saves from the computer version of the game will not be compatible with the Android version yet. This may be fixed in later updates.
Here are a few screencaps, just to give an idea of what it looks like on my Sony Xperia Acro S: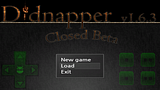 So, how do you play Didnapper using this app?
Download and install the Neko RPGXP Player app from Google Play




Download the Android version of Didnapper from the link above and extract the .zip file somewhere on your computer




Move the Didnapper Android folder to the KernysRGSS folder on your phone's SD card.



Run the Neko RPGXP Player and have fun

As mentioned earlier, there are quite a few glitches related to the app being in development, and the Didnapper team can't really do anything about these glitches except wait for the app developer to fix them.
Here are a few of these glitches:
Some sound effects and music tracks don't play




Sometimes music randomly stop playing




Some animations don't show




Some map tiles have their order mixed up (i.e. an NPC may be covered by a table he's walking in front of)




Sometimes random crashes occur



Note that the added touch feature does not work in custom menus such as the Private Cell and the Party Swap menu. For some reason it also doesn't seem to work in the skill window during battle.
It should also be noted that the game may have a lot more lag on a phone than it does on a computer.
Anyway, if you try this out, let us know what you think